President - Joe Saucier
Joe graduated from UF in 2001 with a BSBA in Decision and Information Science. Joe was born in Honolulu, HI where his father was stationed in the Navy. His family later planted roots in Middleburg, FL. Joe graduated from Middleburg HS and completed a drafting program at St. Augustine Tech. After graduating from UF, he moved to Atlanta to work for State Farm Insurance. He is currently a Customer Service Manager. Joe previously served as VP of Athletics for Atlanta Gator Club and the Gator Club of Jacksonville. His favorite college memory is meeting his wife, Sabrina, and getting married on campus in 2003. He and his family currently live in Cumming with their two daughters, who are active in softball and theater. He is head coach for a competitive fast pitch travel softball team with hopes of his girls playing the game they love at the college level.
President Elect - Dave Burr
Dave is a double gator. He graduated UF with a BS in Computer Engineering and an MBA. He is originally from Buffalo, NY, but grew up near Ft. Lauderdale, and later lived in Gainesville for 20 years. Like many of us, he considers Gainesville home. His favorite memory from Gainesville are the Friday nights with friends at Market Street Pub and Cafe Gardens.
Treasurer - Jordan Myers
Jordan was born and raised in Panama City, Florida. He graduated from the University of Florida in 2005 with a B.S. in Finance. He moved to Atlanta after graduation to enroll at Emory University School of Law. Jordan is an attorney in the Finance Group at Alston & Bird LLP, where he focuses his practice on structuring and restructuring financing transactions and resolving related disputes. Outside of work, Jordan enjoys spending time with his family, traveling, playing golf and cheering on the Gators in all sports.
Secretary - Karrah Hammock
Karrah is a 2008 UF graduate with a BA in Philosophy. She is an Atlanta native. The highlight of her time at UF was all of the great memories, from road trips to National Championships, and all the amazing, lifelong, friendships that were forged.
VP Communications & Membership - Kamelya Hinson
Kamelya is a proud UF "J-school" grad with a BS in Telecommunications Production. She was born on campus at UF's Shands Hospital but grew up in Miami, Florida, graduating from Dr. Fuch's alma mater, Miami Killian Sr. High. As a young graduate in the early 90's, Kamelya worked in radio, television newsrooms and interned in NY on a Spike Lee film. She moved to Atlanta in 1995 and later became Communications Manager for Girl Scouts of Greater Atlanta and is currently a Senior Health Communication Specialist & Digital Media lead. Other than football games, her favorite college memories are doing community service at senior living facilities as a Phi Beta Sigma Dove, working in the studio for WUFT-PBS telethons and serving as Associate Producer for the televised UF homecoming parade.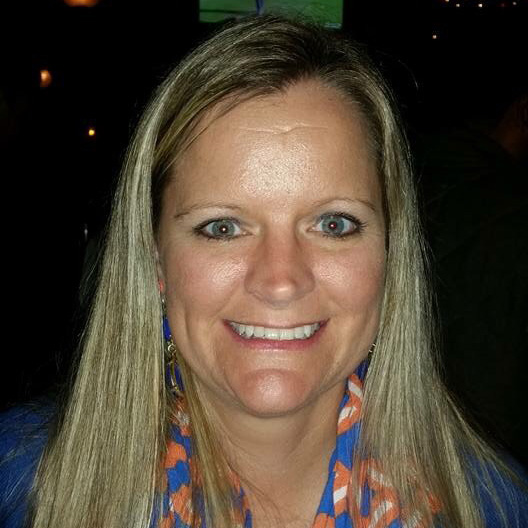 VP Academics - Sabrina Saucier
Sabrina graduated from UF with a BS in public relations in 2000 and a Masters of Arts in Teaching from Piedmont College in 2006. She has been teaching for nearly 15 years and is a currently kindergarten teacher in Forsyth County. Sabrina has taught all grades pre-K through 2nd grade and even some bachelor's level courses at St. John's River State College. One of her first jobs was a Disney character, which led her to becoming the female mascot, Alberta, for UF in 1997. Some of her greatest memories at Florida include: attending the '96 National Championship as a freshman, traveling the country to represent UF as Alberta at women's athletic events, winning the Mr. Two Bits Scholarship and receiving it on the field during a home game against Tennessee, and of course meeting her husband Joe (in a COBOL programming class of all places)! Sabrina is a gifted certified educator, holds the Teacher Leader endorsement, and is looking to begin her leadership certification in education. She is truly a passionate Gator with dreams of retiring back to Gainesville to live out her days attending sporting events on campus.
VP Outreach/Coord. College Fairs/President Assn of Black Alumni-Atlanta - Allicia Salomon
Allicia, a New Jersey native, graduated from UF in 1994 with a BA in Criminal Justice. She earned her Master's in Sports Administration from Georgia State and an MBA from Shorter College. She is currently Managing Partner for the Diamond Creative Group, a global consulting company. Allicia is an active mother of two and volunteers with the North Atlanta HS PTSA on several committees. She also volunteers with her church on the Book Lover's Ministry and the Georgia Center for Child Advocacy. Allicia led a highly successful volunteer project servicing the St. Francis House in Gainesville during Black Alumni Weekend in 2015. In her leisure time, Allicia enjoys traveling, writing, reading and exercising. Her favorite memories at UF include providing service to community as a member of the Jewels of Tau, working with the UF Track team as a Trackette, and serving on the 1994 Gator Connection planning committee.
Volunteer Coordinator - Clifford Rekuc, CPA
Cliff grew up in Fort Lauderdale, Florida and graduated from UF in 1985 with a degree in Finance. After graduation he earned a MS degree in Finance from Florida International University in Miami and passed the CPA exam.  He has extensive experience in Internal Auditing and as an Investigator for the Financial Industry and the Federal Government. He moved to Atlanta in 1991 and became active volunteer for Atlanta Gator Club watch parties. Beyond being an avid Gator Fan, he is a Braves season ticketholder, who enjoys travel and home brewing.
Public Relations Coordinator - Anna Benbrook
Hailing from the great state of Florida, Anna Benbrook took her talents to Atlanta and joined the Emory-CDC Aids Clinical Trial Unit as a Health Educator in 2016. In this role, she aids in the recruitment of study participants, creates communication materials, and establishes community partnerships. Coming from a higher education background, Anna was a Sexual Health Coordinator both at Florida State University, where she received her 2nd Master's in Communication, and at Florida Atlantic University. Prior to that she earned her Bachelor's and Master's in Health Education at the University of Florida while becoming a Certified Health Education Specialist. In her free time, Anna plays roller derby with the Atlanta Rollergirls while serving as the PR chair, she also is a board of director for Atlanta Pride.
Co-Coordinator - Florida Young and Involved - Emily Jones
Emily is a double gator earning a BS in Psychology in 2011 and an MPH, Epidemiology in 2013. She is currently in law school. Emily is a Gainesville, FL native. She always wanted to move to Atlanta so when she had the opportunity to relocate for her job, she jumped at the chance. The highlight of her time in Gainesville was in 2012 when she was the tournament chair for the Florida Blue Key Speech and Debate Tournament.
Co-Coordinator - Florida Young and Involved - Ari Bogotch
Ari graduated from the University of Florida in 2013 with a B.S. in Information Systems. After graduation, Ari joined Teach for America, serving as a corps member in Baton Rouge, Louisiana. Before moving to Atlanta in fall 2017 to work at an education non-profit, Ari spent two years in New York City working in operations at a charter school. His favorite memories at UF include being a part of Student Government, being a brother of Zeta Beta Tau, and spending Saturdays at the Swamp.
Social Media Director - Ashley Nix
Ashley studied Telecommunications Production at UF and graduated in 2009; an exciting time at UF thanks to Chris Leak, Tim Tebow, and Joakim Noah. She grew up in West Palm Beach, but immediately moved to Atlanta for more job opportunities upon graduating. After breaking into the television industry at The Weather Channel, she opted for a career change into Social Media Marketing for stability and a more flexible schedule. She's been active in the Atlanta Gator Club since 2009.
Regional Director, Southside-Southern Crescent - Claudette Pate
Claudette Bouton Pate, BSBA Marketing '83 relocated to Atlanta after graduation from West Palm Beach, FL and built a successful 30+ year career in sales which led to corporate event planning and now the promotional products/brand management field. While in school, Claudette was an active member of Delta Sigma Pi, business fraternity and served as the Production Director of Florida Blue Key's Miss UF Pageant. Her involvement with the Atlanta Gator Club began immediately in 1983 leading her to become President from 1995-96. During that time the club began its first Foundation endowment, hosted multiple away game bus trips and hosted the entire Gator Nation twice in 6 weeks, when we played and beat UGA 52-17 in Sanford Stadium and then turned around and blew out Arkansas 34-3 in the SEC game! An amazing time to be a Florida Gator living Deep in Enemy Territory! Claudette is a proud Life member of the UFAA, Gator Boosters and a season ticket holder and is currently serving a two-year term on the UAA/Gator Booster Fan Advisory Council.
Webmaster - Jason Weisbrot
Jason graduated from UF in 2005 with a BS in Business Administration (Finance). Originally from Miami, he moved to Atlanta in 2007 and was on the Young Alumni board for many years. Jason is a huge Gator football fan and went to just about every game during his time in Gainesville.
Open for Nominations:
VP Membership
VP Athletics
Event Planner
Professional Development
Regional Director, North Atlanta Alumni
To become involved with the Atlanta Gator Club Board of Directors or any of our various committees, please email president@atlgators.com or pres-elect@atlgators.com.